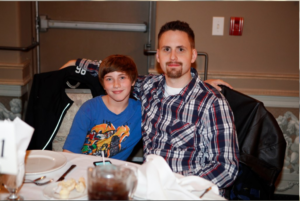 "The Big Brother Program is remarkable!
A Big was sought for my son Aly as he did not have regular, consistent involvement with his dad. Aly does have two older brothers both embarking on careers and marriages. Aly was very close to the second eldest and felt abandoned when he left home. To add to that, we had to move too (Aly was three at the time). Aly did not speak until he was past three years old and experiences behaviour problems. Aly did not initiate any conversations and when he was spoken to; he spoke in a soft voice, never made eye contact, or used one or two word responses. Aly was in the care of a psychiatrist until recently to try to resolve some of these issues. In January of this year, the doctor noticed a great change in Aly, so-much-so that he no longer wants to see him. He asked what had attributed so significantly to this change. We acknowledged Aly's involvement in the Big Brother program and he whole-heartedly agreed.
Aly's marks have climbed, and he looks forward to showing William his achievements and his grades. Aly now initiates conversations. William always encourages Aly.
I have found that I now have time to myself to do something or absolutely nothing.
What I have noticed of late, the pride and confidence that Aly exhibits in all aspects of his life. The most significant milestone is that I no longer have to field questions about his father's lack of concern or care for him (William has never disappointed Aly).
Aly is a very caring and compassionate little boy, and we couldn't have asked for a better match in William. This was initiated with the caseworker while Aly was on the waiting list.  The caseworker spends time with the Littles and this allows him to have insight into their character and personality which matches such as Aly and William's so successfully!
Yours Truly,
Donna