THANK YOU TO EVERYONE THAT PARTICIPATED IN THE BIG START PROGRAM!
On August 26th and 27th, Big Brothers Big Sisters of Niagara (BBBSN) hosted their first annual BIG Start shopping event at the Pen Centre. With funds from Mayor Siscoe's Score Charity Golf Tournament and the 2023 Regional Chair's Charity Golf Tournament, BBBSN was able to support 50 children and youth involved in their programs with a back-to-school shopping spree. The fun-filled 2-day shopping event allowed mentors and staff to take their mentees and waitlisted youth shopping with a $200 Pen Centre Gift Card, an Industria Pizzeria meal voucher, and then given a backpack full of school supplies. In total, 250 backpacks were donated and filled with essential school supplies that will be further distributed to children, youth, and families involved in BBBSN programs.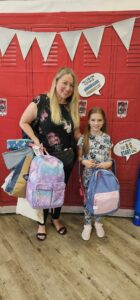 This year we have partnered with the Pen Centre and want to go BIG this year for back-to-school!
Our goal is to provide over 50 Littles with a backpack full of school supplies & $200 in gift cards to go shopping with their Bigs for all back-to-school essentials! We are looking for members of the community and business partners to help donate school supplies and/or sponsor back-to-school shopping for Bigs & Littles.
From July 24-August 21, check out our school bus inside the Pen Centre to drop off new/unused school supplies! You can also find donation bins at Guest Services and Landmark Cinemas.
The first day of school is a BIG deal. Help local youth START school off right with the BIG START!
HOW CAN I PARTICIPATE/MAKE A DONATION
From July 24th until August 21st, we are looking for members of the community and business partners to:
DROP OFF A NEW/UN-OPENED ITEM AT THE PEN CENTRE
 Choose from our preferred donation list below, the items can be dropped in the donation bins at the Pen Centre located outside the school bus (in the hallway between SportChek and Walmart), in Landmark Cinemas, or Guest Services.
MAKE AN ONLINE DONATION
Can't make it to the Pen Centre? No problem! Make an online donation and proceeds will be used to help more matches participate in this program.
ABOUT THIS PROGRAM
Last year, our Back-to-School Program was able to provide 40 matches with gift cards for school supplies, first-day-of-school outfits, new shoes, etc. Bigs were able to take their Littles for a fun shopping outing while ensuring they were equipped with the supplies needed for back-to-school. In partnership with the Pen Centre, this year the goal is to have 50 matches participate in a shopping event held on August 26th and 27th. Each match will be equipped with a $200 gift card that they can use for any back-to-school essentials.

This program impacts the youth in two crucial ways. It is pivotal for a youth's self-esteem, motivation, and excitement for school to be well-equipped for the school year ahead, but it also allows the mentor and mentee to build core memories and strengthen their relationship. The time shopping together provides an opportunity for important conversations about any worries, anxieties, and excitement about the upcoming school year.
THANK YOU TO OUR SPONSORS