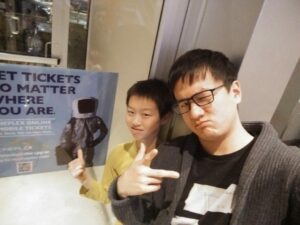 ROBBIE AND TIM – A FRIENDSHIP THAT LASTED A LIFETIME
My brother in law Tim lives in St. Catharines. He has been a big brother to a boy named Robbie since Robbie was 6 years old. Robbie has been a part of Tim's family for all of these years. Robbie had a learning disability and epilepsy. Needless to say, he did not have the greatest luck in life until Tim walked into it.
Robbie and Tim have stayed very close as he got older. Robbie has become part of Tim's family. Tim has a wife Dianne and two children. Tim has always been there for Robbie through troubled times in his life, school, and helping him through job interviews. Tim has been a great role model for this boy.Eventually Robbie moved to London, Ontario yet they still kept in touch and seeing each other whenever possible. About 2 weeks ago, Robbie took ill. Tim and his family had been on vacation and returned to a message saying that Robbie was very ill and that he had been asking for Tim. When Tim contacted the family he was told that Robbie has stomach cancer and was given 2 weeks to 2 months to live. When Tim and Robbie spoke, he asked for him to come right away.
Tim made the arrangements that he needed and off he went to London.Over the past week, Tim has been with Robbie almost every day. Robbie was afraid to die and Tim was the one who talked with him to give him the comfort and support that he needed.On Monday, Tim receive a call from Robbie's mom telling him that Robbie would be leaving soon and for Tim to come to the hospital. Tim left St. Catharines right away and went to the hospital. Tim was with Robbie when he passed.I think that Tim epitomizes all that the Big Brothers Big Sisters stands for. He was a positive influence in this boy's life and was with him until he died.
I want you to share this story with other big brothers so that they can see how important the commitment is that they make.I think that what Tim was able to do for Robbie is wonderful. Robbie left this world with the greatest feeling of all, love, from a man in his life that never let him down.