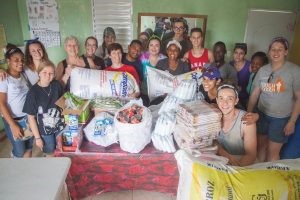 My name is Courtney. I've been a big with Big Brothers Big Sisters Niagara for about 2 1/2 amazing years. This past November, I had the chance to take a life changing trip and go build a house in the Dominican with Big Brothers Big Sisters. Every year when I saw the email go out, I contemplated going, but never went. This year something made me go, and I'm so grateful for whatever that "something" was.
We were a diverse group of 14 individuals, Bigs, Littles, and caseworkers alike, representing most of Canada. We may have been strangers at first, but 10 days later we were a little family, and the community we built in is now our home. To say the trip was life changing is an understatement. For those of you who see the emails and hesitate, I urge you to go!
The company we went with, Live Different, uses the principal of sustainable development. Which means instead of going there and just building a house and leaving, we employed local contractors to help us, bought supplies locally, and spent a lot of time interacting and building relationships with community members. While we had translators to help us, at times it felt like there was no language barrier, we just seemed to find ways to communicate. It was incredible to see how alike we were despite our differences.
The community we built in, Nuevo Renacer, had just experienced a devastating flood, their proximity to the ocean means that anytime the water level rises, it threatens to take out entire homes and streets and just wipe them away into the ocean. Somehow, despite the apparent tragedy, the spirit and courage of everyone was palpable. Everyone was ready and willing to lend a hand where needed, even if their house had also experienced flooding.
We built for a wonderful deserving family. A wife and husband with one child. The husband was in the army, one of the lowest paid jobs in the Dominican. Their child was a planned pregnancy, something almost unheard of in the community, and they were waiting to have a second child until they could be sure they could afford to care for it. Giving them a new and secure house meant they could consider adding a second child to their beautiful family.
There were moments of joy, and of course sadness, but with every moment of sadness we were reminded there is always hope. The locals see the blue bus we arrive in and know that someone, somewhere is getting a new house. We were a sign of hope. To be apart of something like that was simply indescribable and I can't wait to go back next year.
A very wise man I spoke with in the Dominican gave me this advice: "in your life, try to do one really, really good thing. Even if you don't do anything else good, just do that one really good thing. If everyone in the world did one really good thing, think about what a different place this world would be".
Dedication on the house