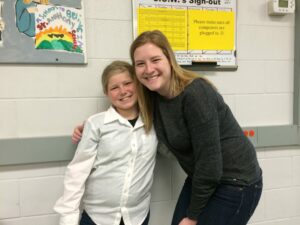 I am writing in support of the "In-School Mentoring" Program sponsored by Big Brothers and Sisters of St. Catharines- Thorold and District.
This program is a tremendous support for the children at Connaught Public School. During my four year tenure as Principal of this building this program has served some thirty socially "at risk" children. We had fifteen of our students involved with nine in-school mentors.
The purpose of program is to support the children in the school setting; as well as provide positive social interaction for the students in an "out of classroom" venue. In all situations the mentors work in partnership with the staff of the school.
Although it is often difficult to measure the impact of programs such as this, I can tell you that the children look forward to the opportunity to meet and interact with their mentor. In fact, we have a waiting list of children wishing to be involved. The positive results are found in the improved behavior and academic success of the students in the program.
The "In-School Mentoring" program has been, an excellent opportunity for secondary school students to be involved with their community. This has a benefit for teenagers seeking co-op experience and a chance to collect their community service hours as required by the Ministry of Education. I have been very impressed with the quality of mentors provided by Big Brothers and Sisters. I highly recommend this agency. Their leadership and monitoring of the program has been essential and the communication and support provided exemplary.
Again, I give my unqualified endorsement for this program. Your financial assistance will ensure that it continues to support our school-aged children.
Sincerely,
Mr. D. Walls
[Former] Principal
Connaught Public School