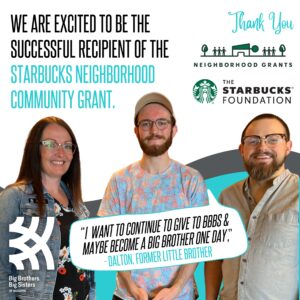 The Starbucks Foundation's Neighborhood Grants are investments that help build sustained local impact and inspire increased partner volunteerism with non-profit organizations that work in our communities.
Thanks to Dalton, a former Little Brother, Big Brothers Big Sisters of Niagara (BBBSN) was the successful recipient of this grant. Dalton generously nominated our organization after having a Big Brother of his own. "I want to continue to give to BBBS and maybe become a Big Brother one day," says Dalton. Currently, Dalton resides in Niagara and is in his last year at Brock University for Computer Science.
At the age of 6 Dalton was matched with Big Brother Alex with Big Brothers Big Sisters of Toronto (BBBST). They both enjoyed playing catch and watching baseball together. Dalton especially enjoyed watching the Santa Claus Parade from Alex's balcony during the holidays. They always made sure to take advantage of any events/opportunities provided by BBBS, "There were a lot of opportunities that would not have been possible without BBBS, it was also cool to see all their different partnerships."
To Dalton, "the smaller moments were just as meaningful as the big ones." Dalton has no memories of his father and grew up in a tough neighborhood so it was nice to have Alex to look up to as a role model. Having a Big Brother gave Dalton the confidence he needed, "I wouldn't have been as open to trying new things without my Big Brother."
Dalton told us about how their mentoring relationship positively affected Alex, it prepared him to start his own family. "Alex let me push the stroller and made me feel like I was a part of his family. I also knew his dad and brother, we would often go swimming together." Their match continued for 6 years and to this day they still stay in touch.
Dalton's message to anyone looking to get involved with BBBSN is this, "There will be natural bad times but there were never any bad moments with Alex. Be yourself, show your true colors to your match and the agency, and always be open-minded to new opportunities."