WHAT BEING A BIG SISTER HAS MEANT TO ME
I met my little when she was 10 years old on Nov.11,2010
I remember that day like it was yesterday. A shy little girl, meeting a stranger for the first time in the BBBS office with her dad by her side. We had our first of many outings that same day! Neither one of us knowing what to expect, yet eager to learn more about each other.  Every outing we go on is a learning experience.  As time went on and we both got to know each other a little more, and we came to appreciate the times we spend together.
I always look forward to seeing my little and enjoy her companionship.
Being a Big Sister is a very fulfilling role for me. I feel that I have made an impact in a young girl's life, and for that I am proud and happy because without this experience her life may have turned out much differently.
My Little has taught me patience and to be more understanding. Just talking to her brings me joy and happiness. She knows she can confide in me and I in her.  I am confident that she knows I will always be there for her.
Today, that shy little girl has grown up to be a beautiful young lady. Her future is full of opportunities that I am sure she will take full advantage of.  I am very proud to call her my little sister.
So, I encourage anyone who may think they have no time, or little to give, to definitely give BBBS a try. It will change your life. And I can truly say that I have a little sister for ever! It was the best thing I have ever done, walking into that office almost 8 years ago! When our match graduates in August it won't be over, just a new beginning in a different setting.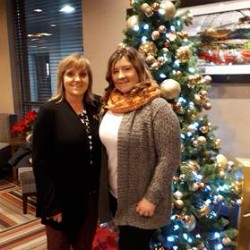 Big Sister ~ Maryann Coburn & Little Sister